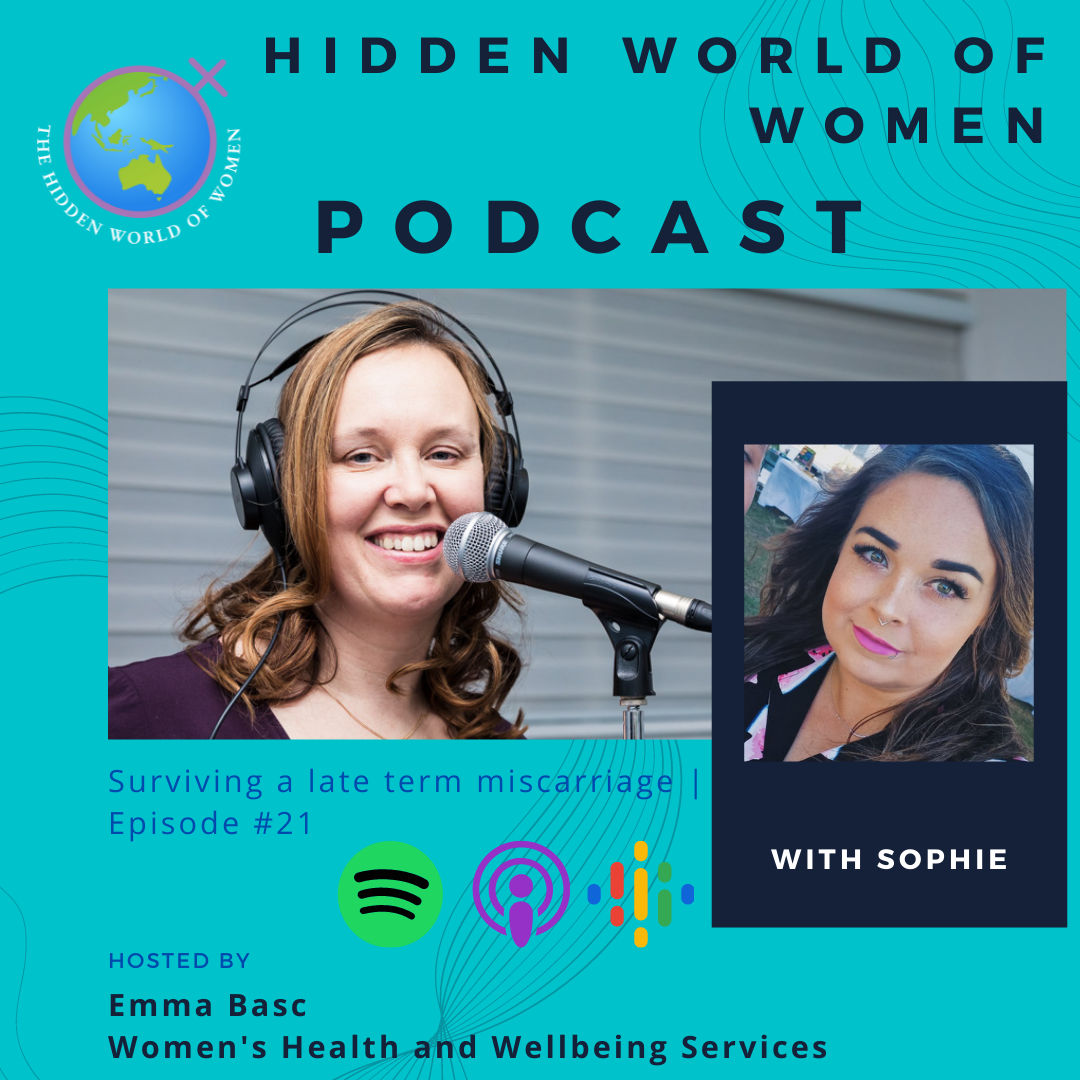 June 1-30 is SANDS (miscarriage, stillborn and new born death) awareness month.
In this episode of The Hidden World of Women Sophie shares her experience with a late term miscarriage. While somewhere between 1 in 4 and 1 in 10 (depending on which source you look at) pregnancies result in miscarriage, only 1 or 2% of pregnancies will end in a late term miscarriage (a late term miscarriage happens between 12 and 24 weeks). While 1 or 2% of pregnancies ending in late miscarriage may seem like a small percentage, if you are that 1 or 2% then it is huge, life changing and brutal!
When you think the 2020 birth rate for Western Australia was 32,677, 1%= 326, 2%=652. Between 300 and 700 women experienced a late miscarriage last year just in Western Australia and yet we very rarely hear about it. For parents who experience pregnancy loss and miscarriage that loss stays with them and impacts them for life and yet the general public is often unaware of how that loss shapes and affects parents.
Sophie shared her experience of excitement of a gender scan turning to a horror story as she heard they couldn't find her baby's heartbeat, having to tell her sons and then having to birth a baby she would never get to take home and her regret at not holding her son. After 2 years she is starting to find herself and heal but Harrison has taken a piece of her with him.
If you or someone you know has experienced miscarriage or pregnancy loss you are not alone. SANDS supports families who have experienced Miscarriage, Stillborn or New born death. The Australian website is https://www.sands.org.au/
The UK site is https://www.sands.org.uk/
Sophie spoke of a Facebook group set up for mothers who have experienced miscarriage and the loss of a child https://www.facebook.com/groups/littledoves/
Red Nose Grief and Loss (formally SIDS and Kids) https://rednosegriefandloss.org.au/
If you are struggling after the loss of a child please reach out for support, contact SANDS or visit your GP for a referral. Red Nose Grief and Loss have a 24 hour phone line 1300 308 307
And don't forget if you want to keep up to date with what we are offering at Women's Health and Wellbeing Services www.whws.org.au
Check us out on Facebook https://www.facebook.com/womenshealthandwellbeingservices
We also continue to add content to our Youtube page https://www.youtube.com/channel/UCju-8oH3lDHZYi18wvgSJTQ
WHWS (and this podcast) rely on donations to support our community. If you would like to make a donation you can head to our Give Now page. https://www.givenow.com.au/whws
Or check out The Hidden World of You our online learning platform https://hiddenworldofyou.com.au/