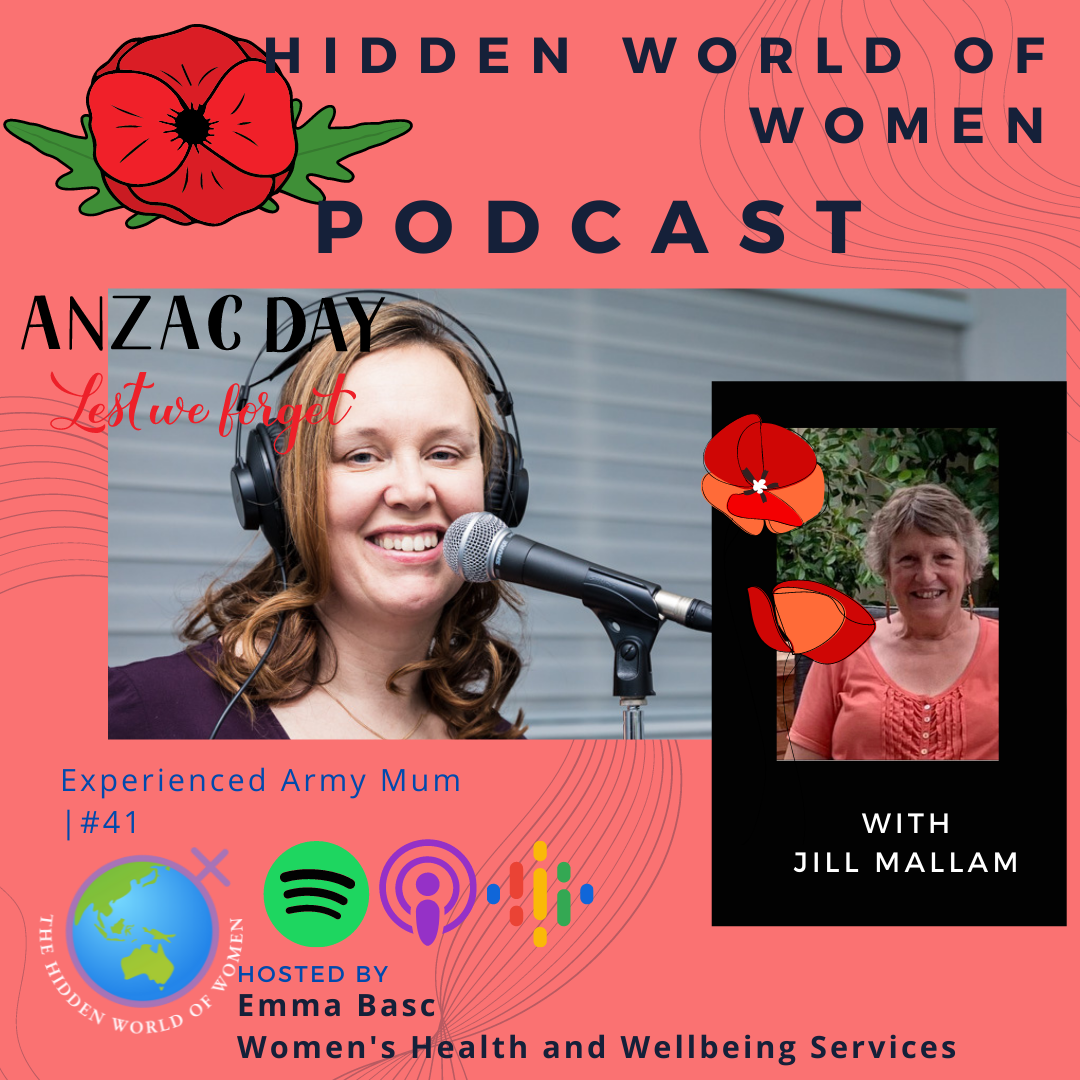 This is the fourth and last episode in our ANZAC day series. The series has focused on how the Department of Defence impacts womens lives. Whether that be women as serving members of Defence, or as wives, partners or mothers.  Being connected to the Department of Defence shapes women's lives and I wanted to speak with women about that experience.
In the last episode I spoke with Tonya, a former Army Reservist and a new Navy mum.  In this episode I spoke with Jill a former Army Reservist and an experienced Army mum.  Jill shares her experiences of being a single mum in the Army Reserves and how inclusive that experience was. Who would have thought that you could bring your kids to training nights at the Army Reserve? I'm going to be honest, I didn't. 
Jill then spoke about her experiences with her daughter joining the Army and Jill's experience being the mum of an Army Officer (including having to salute her daughter!). Jill talked about some of the practical ways that you can support your children who dedicate their lives to Defence as well as ways that it impacted her having her daughter in the Army.
Jill spoke about some of the amazing opportunities that her daughter has had to travel the world and how Jill has also had opportunities that others wouldn't even think of as well as talking about how far the Army has come (maternity uniforms people, pregnant women need maternity uniforms!).
The Hidden World of Women is a podcast brought to you by Women's Health and Wellbeing Services. Help us get the word out about the podcast by hitting subscribe and sharing it with people you know who may be interested.
And don't forget if you want to keep up to date with what we are offering at Women's Health and Wellbeing Services www.whws.org.au
Check us out on Facebook https://www.facebook.com/womenshealthandwellbeingservices
We also continue to add content to our Youtube page https://www.youtube.com/channel/UCju-8oH3lDHZYi18wvgSJTQ
WHWS (and this podcast) rely on donations to support our community. If you would like to make a donation you can head to our Give Now page. https://www.givenow.com.au/whws
Or check out The Hidden World of You our online learning platform https://hiddenworldofyou.com.au/