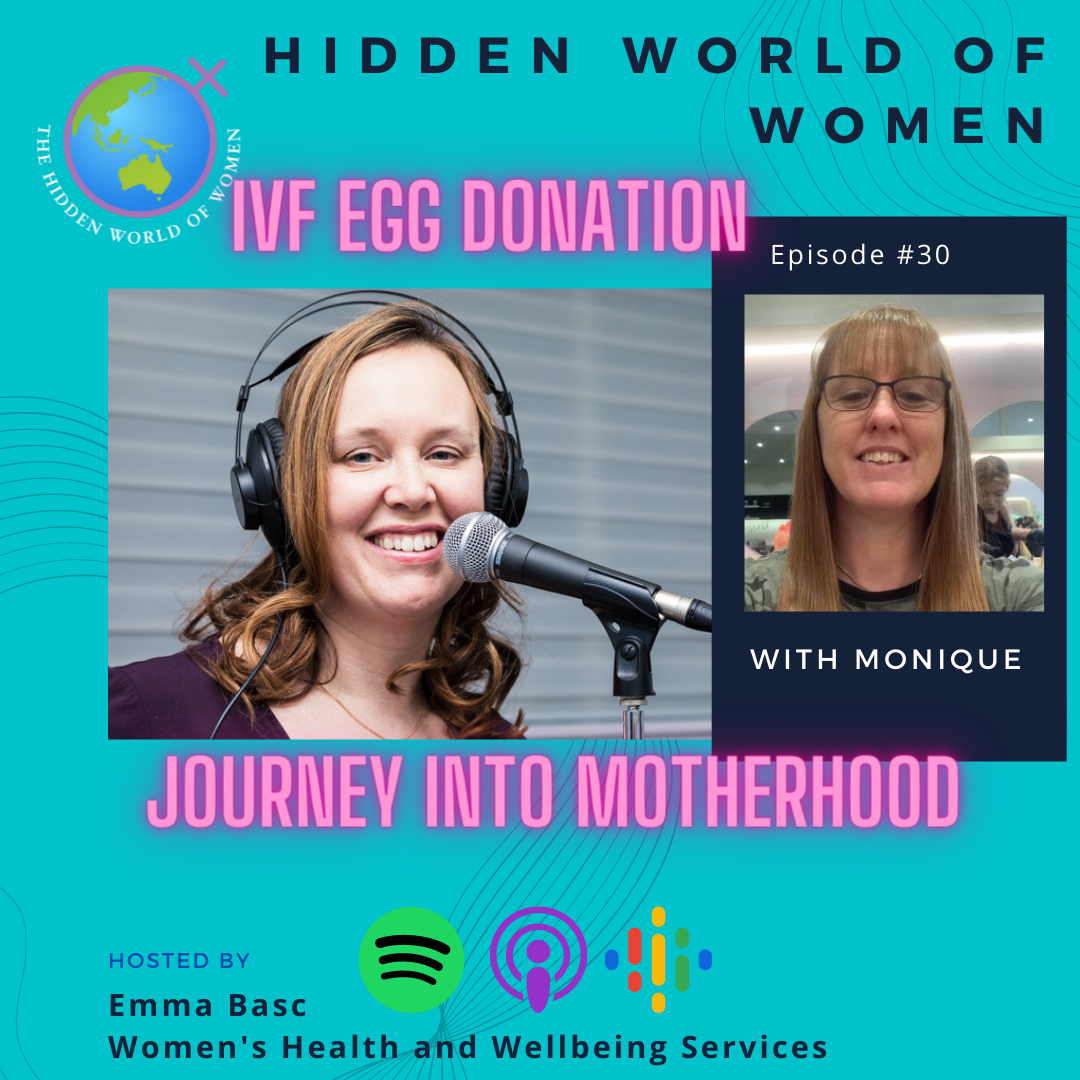 This is the third episode in a new series 'Journey into Motherhood'.
This series focuses on the fact that not all journeys into motherhood look the same. There are many different ways to become a parent.
Journey into Motherhood – IVF egg donation
Approximately one in 35 women are unable to produce their own oocytes (eggs). For those women their options for having a family are to 1) not have children, 2) look to adopt, or 3) experience pregnancy via oocyte (egg) donation.
In this episode of The Hidden World of Women, I speak with Monique who went through the process of donating eggs twice. In the episode Monique says that you have to be under 40 to donate eggs however the requirements have been updated and now women have to be under the age of 35 to donate eggs. For more information you can check out this document https://www.conceptfertility.com.au/files/3415/9287/6930/Egg_Donation_12-3-3_UserTemp_15.pdf
In the episode Monique talks about an article she read in the local paper highlighting the shortage of donor eggs for IVF. I said I would try to find out if there were still the long waitlists to access donor eggs. Not surprisingly I have found it difficult to find that information. Some clinics advertise that there are no wait times but an article that specifically focuses on how hard it is to access donor eggs https://www.childmags.com.au/how-hard-is-it-to-access-donor-eggs/ states that Australia has an egg donor shortage.
I found it fascinating to talk to Monique. As the saying goes 'you don't know what you don't know' and I am fast realising just how much I don't know about the alternate routes to becoming a mother. I had no idea what the process was to donate eggs and as always I am very grateful to Monique for sharing her experiences so freely.
And don't forget if you want to keep up to date with what we are offering at Women's Health and Wellbeing Services www.whws.org.au
Check us out on Facebook https://www.facebook.com/womenshealthandwellbeingservices
We also continue to add content to our Youtube page https://www.youtube.com/channel/UCju-8oH3lDHZYi18wvgSJTQ
WHWS (and this podcast) rely on donations to support our community. If you would like to make a donation you can head to our Give Now page. https://www.givenow.com.au/whws
Or check out The Hidden World of You our online learning platform https://hiddenworldofyou.com.au/